One of the most important and meaningful ways Staticus manifests its commitment to the long-term is through strong partnerships with educational institutions.
From direct involvement in curricula and assessments, through to internships and R&D projects, our team works hand in hand with universities and research institutions. In this way, we contribute to the development of a next generation of engineering talent, and understand what priorities and perspectives upcoming engineering graduates have.
Involvement in KTU's Master's programme
One of our strongest and deepest partnerships is with Kaunas University of Technology (KTU), the largest technical university in the Baltic states. We work together with them on R&D projects, and have co-founded a research center. Furthermore, members of the Staticus team are directly involved in university courses themselves.
For example, our Head of Design, Skirmantas Bakas, was recently a member of the hearing committee which evaluated the theses of Masters students. And he was inspired and impressed by the ideas and perspectives the students presented.
"I was pleasantly surprised by the diversity of the theses themselves and, in a certain sense, the breadth of topics," says Skirmantas. "Listening to the students, I noticed that they addressed two important trends that are very close to Staticus – sustainability and the use of new materials."
Being part of the hearing committee also prompted Skirmantas to consider how he and his team could become even more integrated into KTU's programmes. "Having participated in this committee, I really believed we should be more actively involved in the creation of topics for Master's theses, and in mentoring. I believe this gives value to the university, and to us. The employees that are already involved in these activities find it very stimulating. It takes them out of their day-to-day work, is dynamic and interesting, and has social value. How else could you describe the experience of sharing your experience with the younger generation (and perhaps your future colleagues)?"
Along with assessing Master's candidates, Skirmantas was also present at their graduation ceremony. Along with the Dean of the Faculty of Civil Engineering and Architecture, he presented students from the 3 departments – Structural and Building Products Engineering,
Construction Management, and Sustainable and Energy Efficient Buildings – with their degree certificates.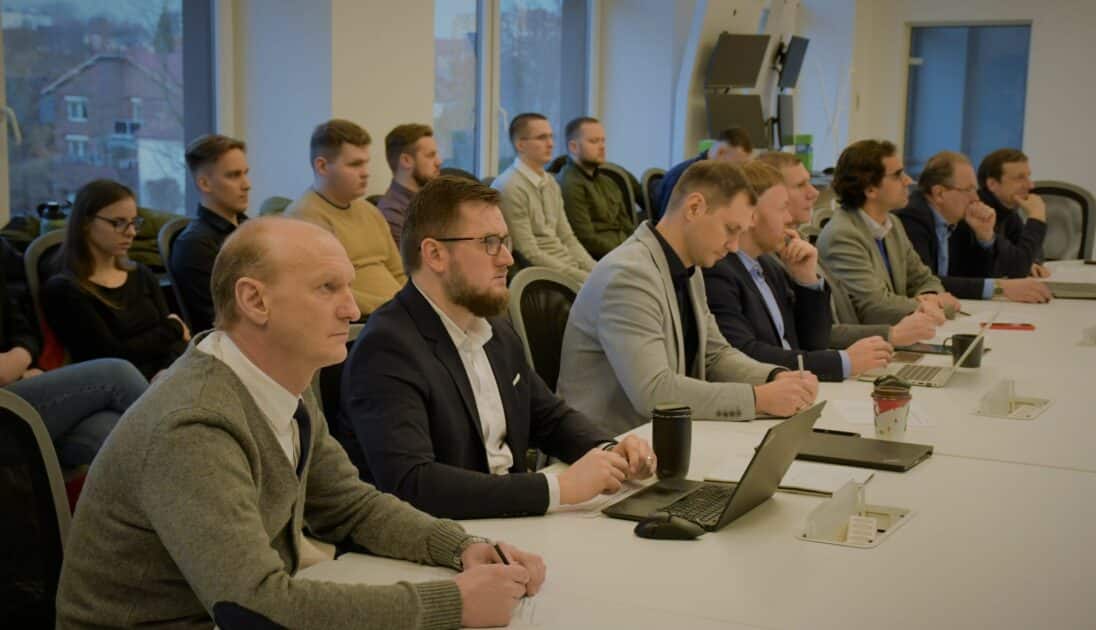 Other important connections with KTU
Beyond our involvement in KTU's Master's programmes, we have forged a number of other partnerships with the university, as Skirmantas explains.
"We helped to establish the Center for Smart Cities and Infrastructure at KTU," he comments. "This center is active in bringing together academics, students and professionals who focus on smart cities and infrastructure."
"Our involvement with this center led to further cooperation on an ongoing Norway Grants-funded project focused on developing more sustainable façades."
This project, titled Developing a more environmentally friendly automated façade system that is integrated into the building's control systems aims to reduce a façade's CO2 footprint by 70-75%, and its non-renewable energy consumption to 53-56% by integrating IoT sensors and substituting aluminum systems with timber.
"We have also been invited by KTU to participate in the long-term strategy of the study program," Skirmantas continues. "We really value this invitation, and see this as an excellent indicator of how KTU values cooperation with us. With this cooperation we get to share our insights and experiences with the young talents. For several years now we have been participating in student hackathons and KTU's Design. Engineer. Construct! Lithuania project for school pupils.. These are important initiatives that have been contributing to the popularization of engineering among Lithuanian schoolchildren for several years."
Supporting the next generation of engineering talent
Our long-term partnership with KTU is just one example of how we are nurturing future engineering talent.
Members of the Staticus team regularly share their experience and insights with school pupils and students, encouraging the younger generation to take up engineering.
Staticus also has an internship programme that is well over a decade old. Every year, this programme provides students with the opportunity to gain valuable practical experience across the entire value chain of the façade sector. Our interns receive a clearly structured set of tasks and lots of support during their internship, and many go on to build their careers within our international team after graduation.