The 79th Edition edition of ZAK World of Façades took place in London on September 30th. And the live event was attended by two of our team – Aaron Dehara, Pre-Construction Manager, and Aulikki Sonntag, Chief Business Development Officer, who was also a guest speaker on a panel discussion at the event.
Both had positive overall impressions of the event: "I was impressed by the scale of the event, and the networking opportunities," says Aulikki. And for Aaron, who was attending ZAK World of Façades for the first time, the "well-organised event" provided him with "an opportunity to reconnect with our clients, consultants, and suppliers face-to-face."
We sat down over a coffee with Aulikki and Aaron to get their thoughts on the critically-important topics covered during the event. Here are their 4 key takeaways from the ZAK World of Façades London, 2021.
Takeaway 1 – Embodied carbon is the No.1 sustainability topic but it raises tough questions
Sustainability dominated the ZAK World of Façades in London this year: "I'd say 70% of the conference was focused on sustainability," explains Aulikki.
And the question of embodied carbon was the most exciting and challenging topic throughout the myriad sustainability discussions that took place. This represents something of a shift from the past. "The focus has always been on operational energy," Aulikki points out. "But now the embodied carbon is gaining equal attention with operational carbon, so the embodied carbon was a big part of the overall sustainability discussion."
What struck Aaron during the event was how seriously the issue is now being taken. "In his session titled 'Embodied Carbon of Façades: A Case Study Analysis and Future Focus', Aneel Kilaire from Ramboll presented his project case study of MP4 Elephant Park, where Life Cycle Assessments (or LCAs) were produced for various façade types comparing pre-cast and unitised façade solutions. It's great to see the market moving in this direction and for us, it's reassuring. Staticus decided a few years ago to invest in and focus much more heavily on providing transparent and accurate project LCAs."
Yet, despite these advances, the discussions during the event revealed two clear challenges for the façade industry regarding embodied carbon.
Challenge 1: Calculating embodied carbon
Firstly, there is the question of calculating embodied carbon. "In the panel discussion 'Façades as Carbon Sinks: Designing Façades for NetZero buildings', there was a debate around how you calculate embodied carbon," explains Aaron. "As there is currently no clearly defined method, it seems it may fall to the industry to agree on a common standard, at least in the interim. Part Z, a new building regulation for embodied carbon in the UK that is currently at the consultation stage, was mentioned by a number of speakers. This is a positive move, but there is nothing concrete yet."
"Overall, the industry needs clear guidance and a framework on embodied carbon so we can set a meaningful performance figure of 'X Kg of eCO2 per square meter of façade." Aaron Dehara, Preconstruction Manager.
Challenge 2: Embodied carbon vs energy efficiency
Secondly, there is the challenge of balancing embodied carbon with operational energy, as Aulikki explains. "Of course, energy efficiency is still very important (and there was an interesting discussion on urban heat islands, where buildings are radiating the heat but can't lose enough to cool down effectively.) But in terms of building design, we now have to think carefully and critically about the correlation between operation energy reduction – which historically led to more material – and embodied carbon – which is best addressed by having less material, followed by closing the life cycle loop."
"And in the past, this topic was often discussed in very simplistic terms," Aulikki continues. "Window to opaque wall ratios, too much glass is seen as a bad thing, and so on. But this is a much more complex topic. For example, the material with a higher level of initial carbon needs to justify itself by being fully recyclable (and that doesn't include down-cycling) and reusable, and contribute to significant energy savings, or even better, energy harvesting. So I would like to see us talking about energy consumption and embodied CO2 in one equation, so it is easier to draw accurate conclusions. That's the challenge, and the industry is behind on this topic whilst looking at these sustainability performance indicators in an isolated way."
"I think in general the topic of embodied carbon has been neglected for too long, so it was good to see it feature prominently. But effectively addressing this challenge in the bigger picture is going to be tough and will take some time." Aulikki Sonntag, Chief Business Development Officer.
Takeaway 2 – There is a growing focus on "healthy buildings" and it will significantly impact façade design
The COVID-19 pandemic was bound to have a significant influence on the conference's agenda. And sure enough, numerous topics were addressed that relate to the effects COVID has had on our health and our overall societies. For example, there was plenty of emphasis on wellbeing and addressing natural ventilation and daylighting.
But the theme that was most directly related to COVID was that of "healthy buildings." For obvious reasons, the issues of ventilation and clean air have gained fresh impetus, as Aaron explains. "It was clear from the conference that investors and property developers are looking for 'healthy buildings'. Whereas in the past high-performance commercial buildings would have been sealed and mechanically ventilated, now the focus is on getting fresh air in and having healthier workspaces that are naturally ventilated. Damian Rogan of Ekersley O'Callaghan addressed this topic when discussing climate-resilient façades and the need for effective heating and cooling to create user comfort. He shared a recent innovative case study of the world's tallest hybrid timber building which has a unique double-skin facade with BIPV cells."
"This trend for 'healthy buildings' is something we need to take note of in the façade industry. There will likely be more interest in ventilated double-skin façades, and in integrated passive and natural ventilation systems. All of which typically lead to façades becoming more complex." Aaron Dehara, Preconstruction Manager.
Takeaway 3 – DfMA is helping the construction sector to modernise and improving sustainability
DfMA – Design for Manufacturing and Assembly – was another prominent subject at the conference. And it was a topic of particular interest to both Aulikki and Aaron, given Staticus' focus on prefabrication.
"DfMA goes directly with sustainability," Aulikki points out. "As was highlighted during the panel discussion titled 'Design for Manufacturing and Assembly (DfMA): Modernising Construction Methods to Unlock Potential Efficiencies in Time, Cost and Carbon', this is an approach that allows a much greater degree of standardization of façade components. The core of the high-performance panel is optimized for manufacturing and assembly, while still allowing for bespoke design on the outside."
"The result with DfMA is a more efficient process," Aaron continues. "It means you can have a standard toolkit for those parts that can be standardized. Then you can use modularisation to build something unique for each project."
"In the end," concludes Aulikki, "each project is unique, but there are still some core components that can be much more optimized. And DfMA makes this optimization possible."
Takeaway 4 – Diversity is an enrichment and there is a clear need for more role models
Aulikki was a guest speaker on the panel discussion 'Women in façade design: shaping the future differently'. And she was impressed by the range and quality of speakers she shared a stage with. "It was a very well-chosen group of panelists, representative of different key groups involved in construction. There was Jo Bacon, Managing Partner at Allies & Morrison, and Aibi Ogbebor, Associate Director at Meinhardt Façade Technology, representing architecture and façade engineering. Claire Tribe, Preconstruction Manager at McLaren Construction, and Ange Francis, Façade Function Lead at John Sisk & Son, gave some broad background from the general contractor's side, while I added the façade manufacturing point of view," says Aulikki.
The discussion touched upon a range of challenging and important subjects for the sector. For example, the issue of gender was related directly to the skills shortage the industry is grappling with. It was pointed out that unconscious bias and stereotyping can exacerbate this problem, hindering the progress of women in the jobs in construction that are deemed more "manly." One solution to this problem is having prominent examples to follow. "Young women need good role models in the industry and inspiration in order to enter this domain," argues Aulikki. "Hopefully, on this second point, Staticus can lead the way, as we are recognized as a leading trade contractor in the industry in terms of gender balance."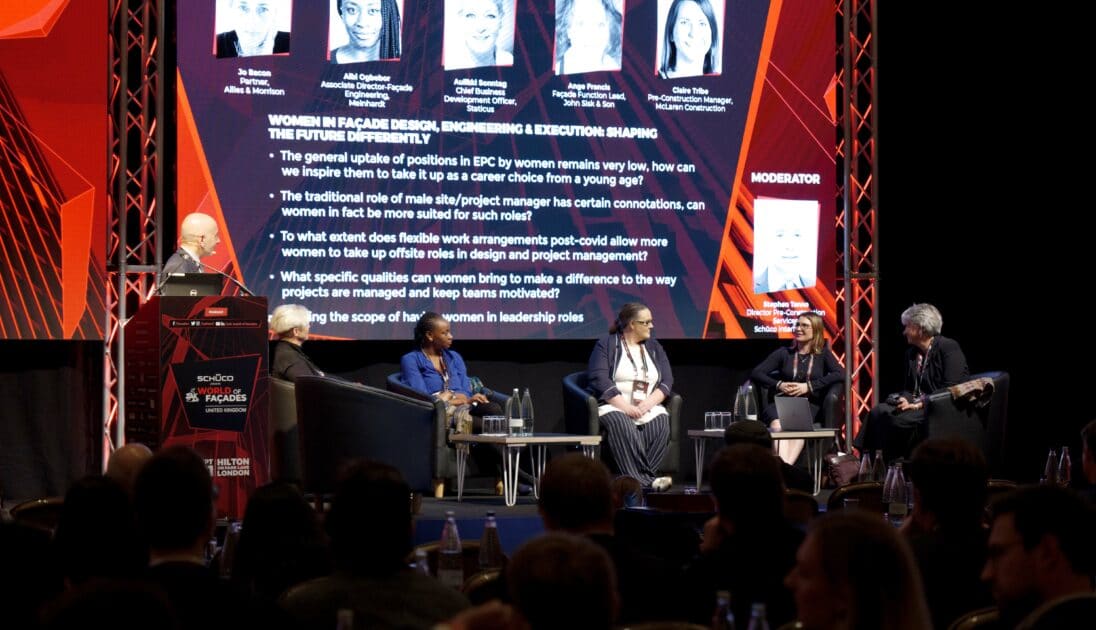 The panel agreed that boosting the number of young people entering the construction sector is a key priority, and it was pointed out that it is the responsibility of leadership in the industry to bring in a diversity of talent. One obstacle to this is the fact that at STEM fairs, construction is up against more "glamorous" sectors such as tech. One solution put forward to address this was placing greater emphasis on sustainability when promoting a career in construction to young people.
While recruiting more young people – and a higher proportion of women – is clearly essential, there also needs to be a greater focus on retention. At present, entry to architecture studies is roughly 50-50 in terms of gender, but there is a drop-off once their careers begin. The challenge is to keep more women in the industry after they take career breaks, and here we are confronted with a wider social issue. "Boosting shared parental leave will help a lot in this area," argues Aulikki.
There was also an interesting discussion around the impact of COVID-19 on the opportunities for women in the industry. The rise of remote and hybrid working practices are fostering a change in the way an employee's contribution is evaluated. For example, the days of evaluating a team member's value based on the fact they are in the office for 5 days a week are gone. Instead, it is about their skills and competence, and the results they deliver.
It was also pointed out that the disruption caused by COVID-19 has helped the industry get away from a culture of "we've always done it this way." During lockdowns, teams were able to limit the number of people on site at any one time while still successfully delivering projects on time, proving that new approaches to on-site work are possible.
Ultimately, the panel agreed that diversity – not just in terms of gender – enriches companies in the sector. And while the panel discussion was good for raising awareness, in Aulikki's view the ultimate goal should be to have no need for panels specifically on the topic of women in the industry in the first place: "In the end, we would like the conversation to be about competence and personality, and not gender."
The trends are positive – now it's time to accelerate
Both Aaron and Aulikki took heart from what the conference revealed about the industry's direction on key topics like sustainability, design, and diversity.
"In terms of sustainability, there is a clear shift happening with the whole industry starting to take the topic more seriously as we become more aware of the impacts of global warming," says Aaron. "Offsetting is looked at more critically, and there is a clear need for more transparency and credibility. In the past there has been a lot of "greenwashing". But we are seeing a "light at the end of the tunnel." There is more talk of carbon liability and measurable targets. And responsible investors are setting targets such as ensuring 80% of materials delivered on a project are accompanied by an Environmental Product Declaration (EPD). Things are definitely getting more tangible."
These trends point to radically different priorities in the façade industry in the future, ones which investors are already picking up on. As Aaron points out, "once investors and developers think about their carbon liability in commercial terms, things will accelerate even faster. Whether it be sustainably-minded tenants who want to ensure that they have a high-performance façade to limit the carbon liabilities of their operations, or an investor looking to minimize the embodied carbon within the construction phase, the asset value and an investors ROI is now intrinsically linked to a building's environmental performance. With carbon offsetting only expected to become more expensive, this is likely to become a very commercially-sensitive point. "
"And this can also come down to the materials used," continues Aulikki. "While construction has been determined by capital and increasingly by operational cost, now there is a rising cost factor at the end of a building's lifetime. Waste management and carbon taxation need to be considered in addition to raw material availability and cost increases. This means it is even more important to think decades ahead. We should see construction as a valuable assembly of materials, and understand that buildings keep a cost value if they can be fully recycled and be part of a closed life cycle loop."
"At Staticus we have been consistently putting our energy into the topic of sustainability," says Aulikki. "We have conducted very detailed LCA analyses of the embodied carbon of our products. There has also been a clear focus on materials for carbon reduction, and on reduction of operational carbon in our premises. And our emphasis is on decarbonization and commitment to the long term."
"Overall, these are great topics, but as an industry, we are too slow. I would like to see things going faster," concludes Aulikki.